Music
ICONic – Tinder Gyals
Mp3 Download ICONic – Tinder Gyals Free , 320kbs ,128kbs music Download Now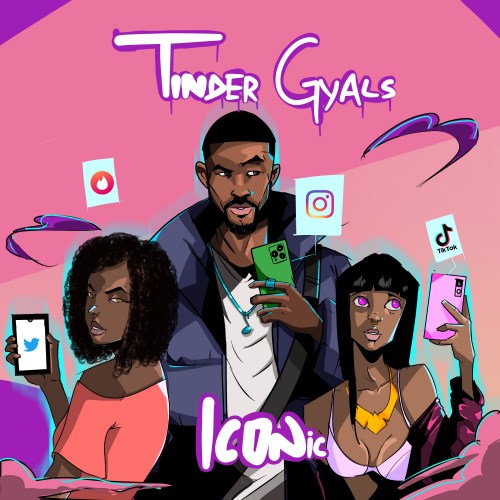 Nigerian prolific songwriter, recording and performing artiste, Ikechukwu Valentine Chukwu also known as ICONic churns out sweet vibes on his newest single âTinder Gyalsâ an uptempo and lively Afro fusion track written in English and pidgin.
ICONic started his music career as a young teenage member of a boy group known as âThug Angelsâ (later called the Chronicles) he also competed in the famous Star Trek music competition in 2006. His quest for stardom has not been without his fair share of challenges and the many curve balls life throws.
This however inspired the name âI Came Outta Nothingâ. A name he hopes to live up to by his ICONic style to music delivery. Along with the EP announcement, today also marks the release of his single from the EP, âTINDER GYALSâ produced by music genius SUDDENSMOKE premiering on all digital platforms worldwide.
This song is very special to me because I felt every word in the lyrics and I had to express myself through my deliveryâ, ICONic said. Itâs a cool melodious vibe with a smooth delivery style that makes for easy listening. ICONic will subsequently commence on a Radio and Club Tour regionally. Club venues and dates will be communicated shortly. I Came to Outta Nothing the EP coming in the the first quarter of 2023.
Listeners will find the EP to be rich in soul and melody. ICONic is particularly impressed with the final outcome of all the songs on the EP. âI canât even begin to believe that we could put this together and still maintain a consistent standard in the quality of the sounds on the EP. I am simply sponsored by graceâ. âGoziem Nwuju talent manager at Kosyperry Talent Management Company âThere is something about ICON that is indescribably different: and with his new project he has discovered what most musicians spend lifetimes working for â a place where feel-good music meets vital social commentaryâ.
Stream download, enjoy and share ICONic newest effort below!
Available on DSPs – STREAM HERE!
For businesses interested in partnership or media opportunities and bookings, kindly find contact info below;
Contact name: Goldi Entertainment
Email: [email protected]
Instagram: he_is_iconic
Twitter/TikTok: heisiconic
Phone: 2348038536001

Download MP3